Construction
From all choices is clincher tyre the heaviest. Necessity to use a much heavier inner tube that adds more weight and increases rolling resistance.
Necessity to use rim tape - an extra part and more weight
Clincher tyre is heavier compare to tubular
Higher rolling resistance compare to tubular
In case of puncture is the repair possible (not easy) or the tube has to be changed
No need to use glue, mounting is quite difficult and sometimes impossible without using tools
After mounting it can be used immediately
In case of fast deflation, direct and instant effect on the rider's stability and safety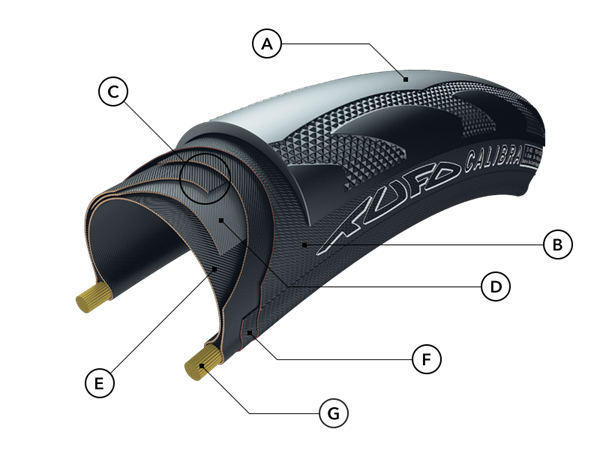 A
Tread
produced with natural rubber based compound with Activated Silica.
B
Sideskin
a very light rubber/polyester composite antipuncture layer.
C
The carcass plies
are overlapped and joined underneath the tread, creating increased TPI (threads per inch) value and better tyre puncture resistance.
D
Puncture proof ply
made of rubber cord composite strengthened with CRCA.
E
The carcass
consists of two layers of rubber cord composite with reverse bearing cord
orientation in each layer, joined and strengthened with CRCA.